If you're reading this article you may be considering the options between one page and multipage websites or wondering about one page website SEO.
One page websites can have lots of design benefits. A one page website is meant to condense all the most critical and persuasive information on a single page in an easy to read format.
No thinking or decision making is there for the reader to get caught up in.
Everything is clean, clear, and simple.
Instead of multiple landing pages on the navigation tab, there might be just one single link or call to action.
However, one page websites can be very limiting when it comes to SEO.
If ranking well in organic search is a priority for your site or your business, a one page site is not likely to be the best option.
Pros of one page sites
Can be very good for selling something very specific or catering to a very specific audience

Can be great for selling packages or subscriptions

Smooth and simple user experience

Can have better mobile functionality

Great for storytelling
One page website examples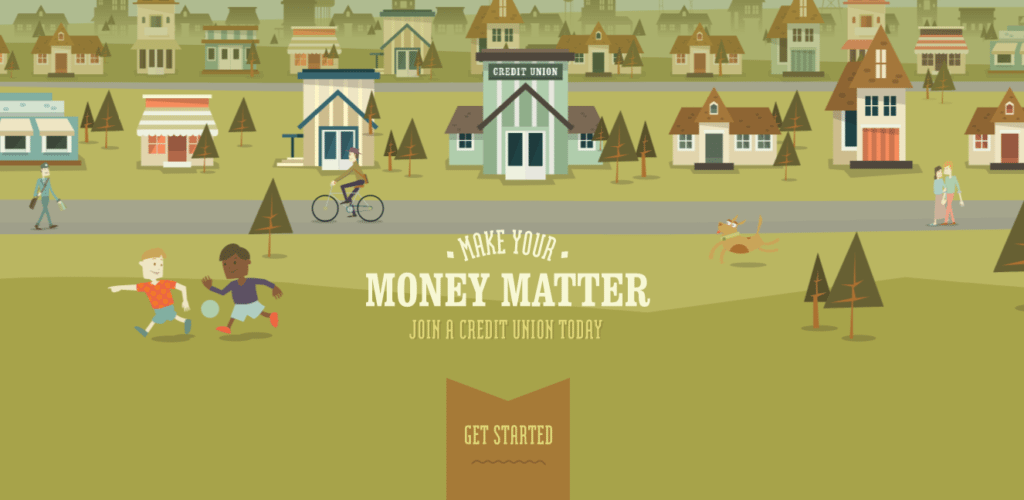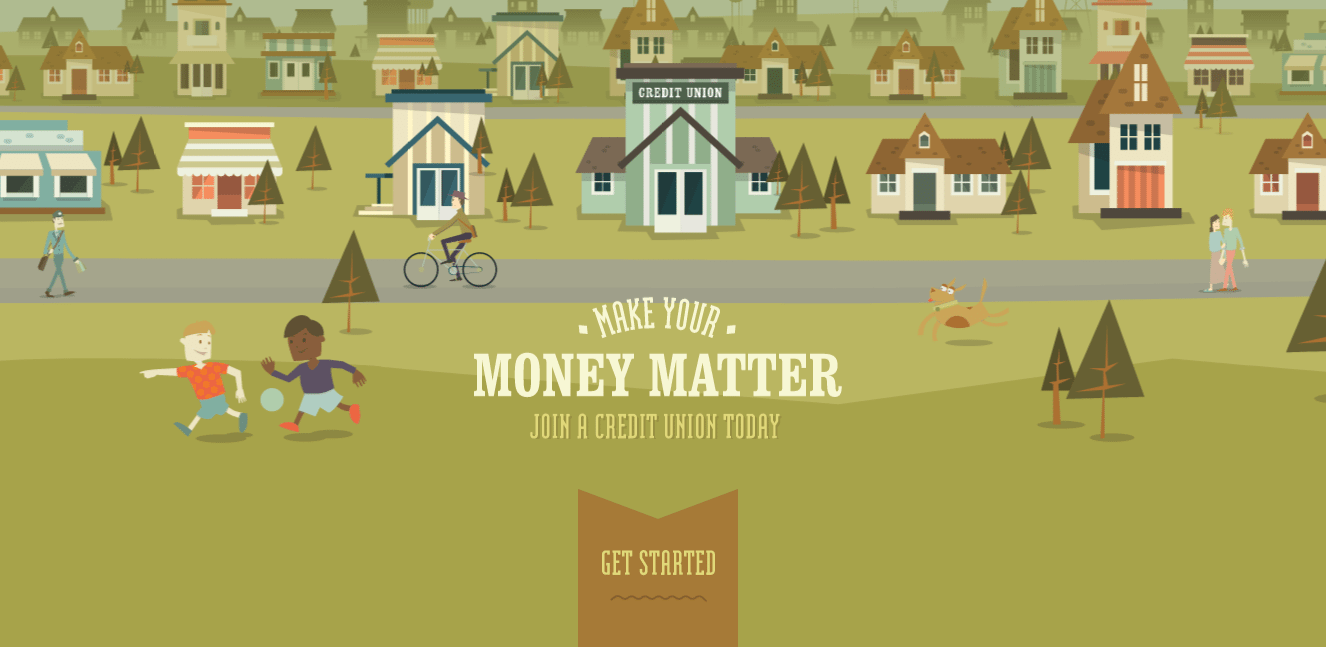 Make Your Money Matter is a website that helps people join credit unions. They have a single page website where you scroll down and they utilize visual storytelling to educate you on how banks work and how credit unions differ. There is no navigation at the top of the page you have to scroll to begin and clicking the links toward the bottom will take you to a separate part of that same page.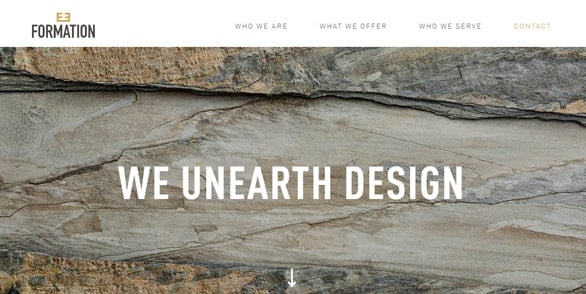 Formation is a stone/tile design company and they have a one page site that's well done and clearly explains everything they do and how they can help their audience. They have a navigation bar at the top of the page which if you click it will take you to the point on the page where that information resides. They do a good job of telling the story of who they are and what they do while highlighting their expertise and unique selling points.
Cons of one page websites
One page sites don't necessarily mean that they're bad for selling or making money, but a single-page website is typically not going to do as well in Google search results for several reasons.
Disadvantages can vary by industry, product/service and depend on the needs of the business and the nature of the audience. 
I'm going to focus on how one page sites suffer specifically in search engine optimization.
One page website SEO disadvantages
There are some general rules as to why single page websites struggle with SEO.
Loading speed is important for SEO and one page sites have potentially longer loading times due to the amount of content necessary to fit on the single page.
Another challenge of one page websites is lack of depth and detail. There's not enough space to go into detail on multiple topics without cramming the page.
Because one page sites can't get as detailed, it's more difficult to fulfill search intent which can contribute to a higher bounce rate. Search intent usually means answering a specific question and it's easier to do with long-tailed keywords and in-depth content. 
High bounce rates from people who have scroll fatigue or find it difficult to navigate the site are also a possibility. 
The limited number of target keywords is another big drawback of one page websites. It's very difficult to rank very well for multiple keywords on a single page so if you don't have additional landing pages or blog content to capture those keywords, your site won't be optimized. 
Also, a lack of informational content pages to drive up the authority of the website hurts the SEO of one page sites.
A case study by Eoghan Henn (freelance technical marketer/co-founder of website migration SEO tool searchVIU), shows how harmful a lack of informational content pages is to the SEO of an ecommerce site.
"After the removal of the informational content pages, the shop lost about one-third of its overall visibility as the home page and category pages lost most of their top rankings for commercial intent search queries."
Click here to look more closely at how significant a decrease it was.
You should avoid one page websites if:
You have an e-commerce store

You'll be selling multiple products/services

You want to optimize your website for SEO and organic search traffic 

Blogging will be a key component of your marketing strategy and website

You're selling anything that requires a lot of educating and information to decide on
Pros of multipage sites
Multipage websites are better for explaining broad services and more complex information. Many technology-related and software related companies fall under this category.
One page sites may be great for offering one type of product or service, but if there are multiple offers then a multipage site is better.
Multipage sites allow for better 'siloing' of key information and taking advantage of website architecture.
Siloing is when you organize your website architecture into the main topics relevant to your audience to demonstrate competence and experience in those areas.
This allows you to organize content into categories and sub-categories and helps you fully address a wide range of information and questions related to that topic.
Proper siloing allows you to deeply explore different topics in detail and help your site be a more comprehensive resource for readers.
On multipage sites, you can do more advanced SEO with landing pages and blog posts that target specific keywords.
Examples of multipage websites 
Rydoo is an expense management software company and they have a multipage website you find more typically in the SaaS space. They have basic information on their home page meant to build social proof with their review scores and then some customer logos. Their navigation bar leads to different tabs that provide more detailed information on things like their products, pricing, customers, and resources. Scrolling down below the fold on the homepage reveals a summary of their features and benefits, their integrations with other tools, and other calls to action.
Freshbooks is an accounting and invoice tool for small businesses and their website is another example of a minimalist approach to the homepage. They have a brief but concise summary of what their product does, a call-to-action to get started on a free trial by filling in your email address, and additional navigation tabs to share more information how their product works, who it's for, additional information, and a link to their blog. When you scroll below the fold, there are summarized info on their features and capabilities, testimonials, and additional calls to action.
Cons of multipage sites
Even though multipage sites are the majority, they do have some cons.
More difficult to maintain

Most likely will require more content 

Getting to certain information on the site requires extra steps

Can be more difficult to optimize for both mobile and desktop browsing
Multipage sites have to make sure they create the content that requires them to go into depth and market it properly. It has to be developed, distributed and maintained. Especially if they're blogging, it takes consistent content creation.
Having one single page to edit, update, optimize, and maintain is much easier than managing multiple pages.
One Page Websites vs Multipage Websites 
There are unique pros and cons to one page and multipage websites.
The focus should be on what best serves your audience and your customers and makes sense for your business. 
However, multipage sites can take design elements from one page sites and incorporate them into their layouts.
Homepages are broken down into easy to digest sections, with features/benefits, testimonials, reviews, and persuasive copy weaved in throughout the page.
Both one page sites and multipage sites have summarized info on categories like product/services, who they serve, about, how they work, pricing, and some social proof in the form of testimonials or reviews.
The main difference is that multipage sites include additional landing pages in the navigation that go into much more detail on those different categories.
Many of the best multipage sites, including the examples listed above, utilize similar design and structure elements as one page sites. This flexibility, in addition to the clear advantages in search engine optimization, makes multipage sites a very safe option.
If you're on the fence on how to set up your website design and architecture, hopefully, you find this information useful.